2018 Southern Region Women's Lenten Retreat
Add To Calendar
Saturday, February 24, 2018
8:00AM – 12:30PM
8:30am Holy Sacrifice of the Mass with Rev. Corey VanKuren
Speaker: Sr. Mary Jane Florence Athieno LSOSF, reflection on "Healing the Family"
Retreat includes: Holy Mass, Breakfast, Speaker Reflection, Confession and Eucharistic Adoration.
St. Vincent De Paul/Blessed Sacrament, 465 Clubhouse Rd. Vestal, NY 13850 - Handicap Accessible
Mail registration with $15 fee (Postmark Deadline Feb 12th) Payable to: Diocese of Syracuse. On check, please note "Southern Retreat" Women's Commission c/o Diocese of Syracuse, 240 E. Onondaga St., Syracuse, NY 13202 Or RSVP by email to: swc@syracusediocese.org
Registration also available at the door.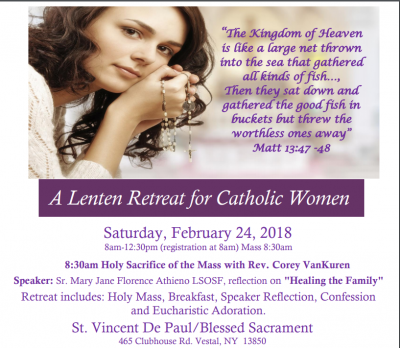 Event Location
St. Vincent de Paul Blessed Sacrament
456 Country Club Rd.
Vestal, NY 13850