Luncheon Series "St. Michael and the Archangels"
Add To Calendar
Tuesday, September 25, 2018
11:00AM – 1:00PM
Luncheon Series: "St. Michael and the Archangels" The Good News Center, 10475 Cosby Manor Rd, Utica, invites you to join us as we welcome Annette Gape. Annette serves as a certified Director of Faith Formation at Historic St. John's Church. She was trained through Loyola Institute for Ministry and has been a facilitator here at The Good News Center leading our Bible Study. Annette will help you celebrate the Feast day, September 29, of "St. Michael and the Archangels." Come and learn about St. Michael, St. Raphael, St. Gabriel and the other Archangel's role in Salvation history. Through Scripture, prayer and art we will explore the relationships between the Archangels and God's people. Join us on Tuesday, September 25th from 11:00 am – 1:00 pm. Cost is $12.00 per person or $10.00 for 1992 Club members. Please register by September 18th by calling 315-735-6210 or visit www.thegoodnewscenter.org.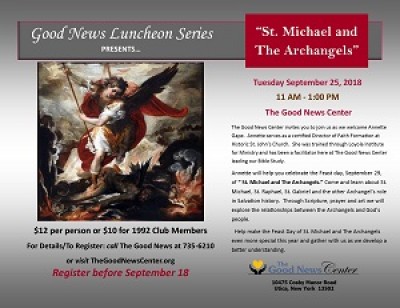 Admission Info
$12 per person or $10 for 1992 Society