Day of Remembrance for Pregnancy and Infant Loss
Add To Calendar
Sunday, October 21, 2018
1:00PM – 4:00PM
The Day of Remembrance is a day to pray for, honor and remember all babies lost due to pregnancy and infant loss. 
The day will include prayer and reflection in Adoration, special memorialization of babies lost, a Mass of Remembrance, and a reception with refreshments. Confession will be available, as well as additional resources to assist in the grieving process.
This event is open to anyone who has experienced pregnancy or early infant loss at any point in their lives, as well as those who love and support them.
No registration is necessary.
Open to all faith backgrounds.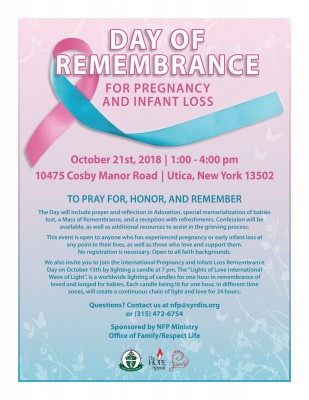 Event Location
Good News Center
10475 Cosby Manor Rd
Utica, NY 13502