Theology on Tap - Syracuse
Add To Calendar
Thursday, March 11, 2021
7:00PM – 9:00PM
The Office of Youth and Young Adult Ministry is getting ready to launch our Lent speaker series. Join us in March for a four-week series entitled, "Hey, Siri, I need directions"  as we explore various aspects of the Catholic faith. 
Theology on Tap is a gathering of young adults in their 20s and 30s looking to connect and learn more about the Catholic faith.
---
Hey Siri, I need directions... for where I am going. How to discern your path.
Speaker - Bishop Lucia
As the Diocese of Syracuse celebrates the Year of Vocations, come and hear Bishop Lucia share his testimony and vocation story. All Catholics have a particular calling, Bishop will also share some advice on how to discern your vocation.
---
By registering online you will receive a ticket at the door that can be redeemed for one free drink (beer or wine) on March 11, 2021 from 7-9PM at the Blue Tusk.
Please note, current coronavirus regulations require you to purchase food if having a drink. Food will be purchased at your own expense. All prices listed at Heritage Hill Brewery are cash prices, an ATM is available for your convenience. Credit/Debit card purchases will have a 4% convenience fee added to your check.
Theology on Tap will meet in the barn (not the main brewery). The barn is heated, but we recommend you dress warm/bring extra layers.
Admittance at the door will be permitted if space allows. Only those who register in advance will receive a drink ticket.
If you have a ticket and do not show up at Theology on Tap by 7:20PM on the evening of the event, your spot may be given to someone on the waitlist.
If you sign up and are placed on the waitlist, you will be notified if a spot opens up. You will have 24 hours to claim your ticket.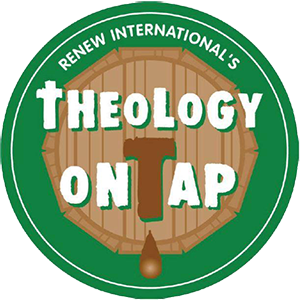 Event Location
Heritage Hill Brewhouse
3149 Sweet Road
Pompey , NY 13138