Theology Uncorked
Add To Calendar
Thursday, October 21, 2021
6:30PM – 8:00PM
Do you have a question? So many answers can be found in the Bible!…and at Theology Uncorked!
Let's gather on Thursday, October 21st at 6:30 PM at Hart's Hill Inn, Whitesboro, NY as we welcome Fr. Mark Kaminski, Pastor of St. Anthony and St. Agnes, St. Patrick - St. Anthony, and St. Mark's Churches with topic of the evening "Bible, Etc." Fr. Mark will draw on various things present in the life of today's Christian – prayer, Christian moral life, liturgy, and other topics. He will trace their origin and source as found in the Biblical tradition.
Form your questions while enjoying a glass of wine and some light fare on us as we receive all of the Believers, the Curious and the Skeptics!
We ask you to please register by calling The Good News Center at 315-735-6210 Monday – Friday 8:30 AM – 4:30 PM or email us at info@thegoodnewscenter.org.
Free food, talk and wine.*(First glass of wine is on the house!) Please join us for an enlightening night of conversation!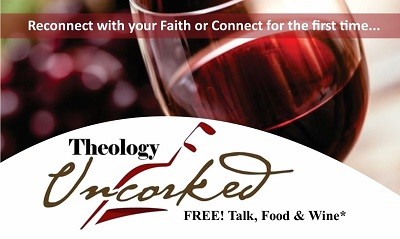 Event Location
Hart's Hill Inn
135 Clinton St
Whitesboro, NY 13492