Our Lady of Pompei 72nd Annual Election Day Spaghetti Supper
Add To Calendar
Tuesday, November 2, 2021
11:00AM – 6:00PM
The 72nd Annual Election Day Spaghetti Supper is Tuesday, Nov.2ndfrom 11 am to 6:00pm. Due to continued concerns..  we will again be doing Take Out and Delivery only!! No need to get out of your cars, pull right up to the school and someone will direct you and bring your order right to your car!!
The price for individual take outs will be the same as the past few years..$10.00 ..which includes lots of pasta, 2 meatballs, salad, Italian Bread and dessert. We are again offering half trays that serve a generous portion for 6 (spaghetti, meatballs, salad, loaf of bread, and dessert) for $50.00. And full trays that serve a generous portion for at least 15 for $100.00. The trays are great for family/friend dinners or for coworkers/office  gathering!!! Last year  we sold out the 1000 dinners that we planned for a week before the event so this year we are planning to double the amount of dinners available to 2,000. It's not too soon to get your orders in!!! So don't delay!!!!!!
Give us a call at the Parish Office 315 422 7163 or School Office at 315 422 8548 to place your order, questions or for more information .
Thank you for your wonderful support!!!!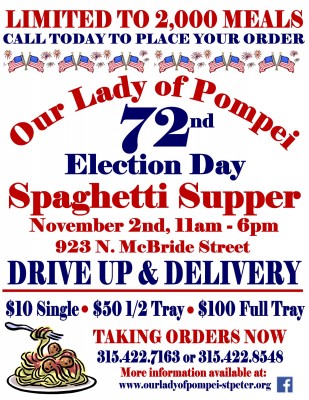 Admission Info
Single $10.00/ Half Tray (serves at least 6)...$50.00/Full Tray (serves at least 15) $100.00