Vienna Boys Choir to perform at our Lady of Pompei/St Peter
Add To Calendar
Tuesday, December 6, 2022
7:00PM – 8:30PM
The angelic-voiced musicians of the Vienna Boys Choir will celebrate the magic of the Christmas season with a delightful program Christmas in Vienna at Our Lady of Pompei/St Peters Church! This illustrious group of child musicians has been delighting music lovers across the globe for six centuries with their purity of tone, distinctive charm, popular repertoire and generosity of musical spirit. Christmas in Vienna show cases their voices of unforgettable beauty in an extraordinary program featuring Austrian folk songs, classical masterpieces, popular songs and, of course, holiday favorites for an evening that we are certain will be long remembered.
We have all heard about them, surely many have listened on tapes or T.V., maybe some have even been to Vienna to see them in person. But to have them performing here in Syracuse in the beautiful Church of Our Lady of Pompei/St Peters is just amazing!!
We hope you will take advantage of this remarkable opportunity and join us on Tuesday, December 6th!!! . Seats are already more than half sold so don't delay!!
If you have any questions or to obtain tickets please call The Our Lady of Pompei/St Peters Parish Offices at 315 422-7163!!
We are sure you agree this is a beautiful way to usher in and share in the beautiful season of Christ's Birth!!!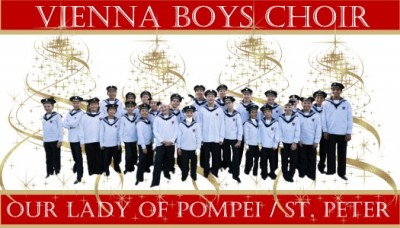 Admission Info
$100.00/$75.00 seats available