Theology Uncorked with Deacon Dan Hurley
Add To Calendar
Thursday, June 15, 2023
6:15PM – 8:00PM
Join us as we welcome Deacon Dan Hurley on Thursday, June 15th at 6:15 pm at Hart's Hill Inn. Deacon's topic for the evening will be on "How does the Thief on the Cross fit into your idea of theology?"
He was never baptized, not confirmed, never made his first holy Communion, never donated a dime to the church, never spoke in tongues, never considered ordained ministry, never even wore church clothes. He never sacramentally confessed his sins, nor did he privately pray the "Sinner's Prayer" asking for personal forgiveness; and on top of all that … HE WAS A THIEF!!
Jesus did not take away his pain. He did not heal his body, yet it was that very soul which walked into paradise that day with Jesus … simply by believing. Whoever you are … JUST BELIEVE!!
Reconnect with your Faith or Connect for the first time... Theology Uncorked is a gathering of conversation for the believers, the curious and the skeptics. Free! Talk, Food and Wine* (First glass of wine is on the House). Registration is required by Monday, June 12th. Please call The Good News Center at 315-735-6210 Monday – Friday 8:30 AM – 4:30 PM or email us at info@thegoodnewscenter.org.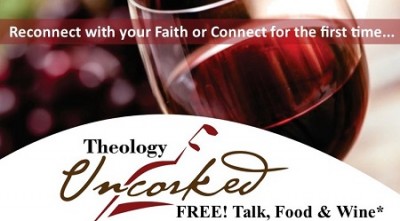 Event Location
Hart's Hill Inn
135 Clinton St
Whitesboro, NY 13492